Heavy Rain, Torrential Downpour, High Water?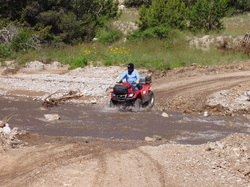 Through the older trips where we would run through the desert and up into the mountains we on several occasions encountered what was referred to as a "Turd Floater". We would get caught in some of the most vicious downpours you could imagine. In the desert flood waters can raise extremely fast so even if it was dry when we left there was no telling what was ahead of us. The water could get up to 2-3 feet deep in places so you would have to choose your line carefully. This was in the desert mind you before you even made it to the water crossings. Another note about heavy rain, flooding and our range of all terrain vehicles was the fact you packed everything on an ATV for a 3-4 day excursion. This meant your lodging, clothes and food for the whole trip left with you and hopefully made it to where you were going. One year I distinctly remember being very young maybe 8-10 years old, my dad had a tent with a grasshopper emblem on it and it was an army green type tent. Very basic and served us will on more than one trip, that was until it needed to keep us dry. One of the most miserable nights I can remember camping as we were in sleeping bags soaked to the bone and the tent was doing nothing to keep us dry. Why no hop in the car you ask? There were no cars, just motorcycles. The following day our gear was dried by a campfire and I still went home thinking this was one of the best times of my life. Each and every year this is the one thing I would look forward to more than anything and its something I will never forget.

---
How did the cow cross the road?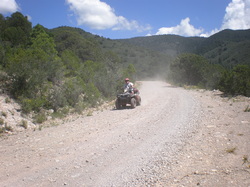 This story is a little sad, a little funny and a little bit of a miracle all wrapped up in one. To me personally I like helmets, my head is important to me and I like to protect it. Especially in the middle of nowhere with no communication devices and the nearest hospital being hours by road and likely a 30 minute turnaround on life flight. Keep this in mind till the end. Another memory I have from being younger on these trips is you combine testosterone, gasoline and large 2 stroke motors stuffed in light ATV frames running across the desert on open ranch roads with no speed limit signs something is bound to go wrong. When we were maybe 13-14 a buddy of mine (Shane) came on the trip as usual but this year with a nice newer Yamaha Blaster. If you don't know its a 200cc 2 stroke racing style ATV and tops out maybe between 60 and 70 when geared right. Did I mention we were 13? Back to the story, he had a buddy with him that year also. His buddy was riding on the back of the ATV, another rainy year so they both had rain gear on and we were young and dumb so neither had a helmet. When traveling the desert you see a little bit of everything, cactus, scrub brush, animals, abandoned structures. Well the scrub brush is pretty large, loud motorcycles wrung all the way out in top gear scare animals, unsuspecting riders that have been screaming across the desert all day have less than adequate reaction times for responding to what comes next. As he is no doubt doing a clean 65mph minimum a young cow jumped out from behind scrub brush directly into his path. The motorcycle came to a very fast stop, him and his buddy did not. They both went over the bars landing on the gravel road at speed. Luckily enough? Meaning the best possible outcome, they both had extreme gravel rash on elbows and decent rash on their knees. No head injuries and the main loser here was the calf and the ATV. The calf unfortunately had to be put down immediately, it had two horribly broken rear legs. We did leave a note for the rancher to repay the debt of his calf, if memory serves me he never contacted anyone about it. The ATV had to be picked up with a trailer and taken back to El Paso. Everyone else made it with no further problems and a completely new respect for how quickly things can take a turn for the worst.

---
Spelunking? Not these days...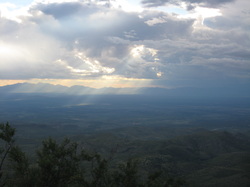 One of our daily excursions in the old days was to travel back out across the desert to a little town called Orogrande, NM. This was one of my personal favorite parts of the trip. We would pack a lunch of Vienna sausages, crackers, spam and any other rancid canned meat most people wont even consider eating and loved every minute. Orogrande at one time was a mining town, we would travel out through the range and go exploring in these old mines. Some so large we could explore for hours without going over the same spot twice. Some of the dangers of this are mine shafts, snakes, bats, potential collapses and of course getting lost. While none of this ever happened to our group we got word of the mines all being closed down, rumor was a teenager was out exploring and through a series of poor decisions ended up falling down into a mine shaft. These are sometimes hundreds of feet deep and anywhere from 4x4 to 8x8. If you fall in one this is not survivable. The teenager didn't make it and the mines were all closed and sealed up. No they have large tubing running into some sections of mines to preserve the area for bats and some have been completely imploded. Still makes me sad to know that since the late 90s no new memories were ever to be made here again.

---
Barney Comes to Camp!
Tent? Check! Sleeping bags? Check! Chairs? Check!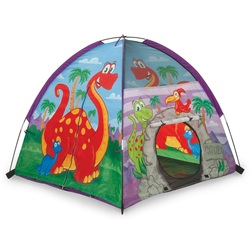 Camping as we all know is something that requires skill, preparation and the right equipment. So if you take two of the three out of that equation this is what your left with. So you (George Brooks) have a loving wife (Debbie) trying to do the right thing and decides to pack your camping gear for you. You have your tent, chairs, sleeping bags and all the little ins and outs for a successful trip marked off your list with help from the significant other.

As the story goes, George arrives at camp ready to go and have a great time on the trip as usual. This year however would be different as he soon found while unpacking. He proceeds to pull out and setup a purple Barney tent with roughly a 4' x 4' footprint. Everyone witnessing this proceeded to laugh into tears just short of rolling around on the ground. Wait it gets better, to add insult to the situation he pulls out his matching Barney camping chairs which were also child sized as you would guess.


Later in the night George and his son were both found sleeping in the purple tent with half their bodies hanging out. The weather for the most part is nice in the mountains, with the exception of fast rolling, extremely heavy rain storms. As luck would have it, this would be one of those years. After enduring the driving rains, the next night George could be found cuddled up next to the camp fire on the ground.To this day George is still asked with a laugh about the whereabouts of his purple tent. Needless to say Barney has not made an appearance since in any form but a good campfire story.

---